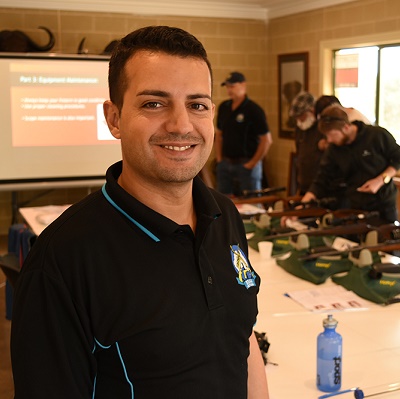 Pathway to the Shooting Sports: Getting trained up
If you're brand new to shooting or just have a passing interest, there is professional guidance in firearms use and getting a firearms licence.
SSAA Victoria Assistant Manager Training and Education Fady Khalife has been instructing new shooters under the Association's Practical Firearms Training Program (PFTP). He will explain the steps to take and things to consider when becoming a firearms owner.
Fady's work in developing the PFTP has been recognised by Victoria Police and the Introductory Course run under the program is an alternative to the Firearms Safety Course, which must be successfully completed to obtain a firearms licence.
The course also provides instruction on handling, cleaning and accurately using a firearm and Fady's presentation will introduce you to the course content.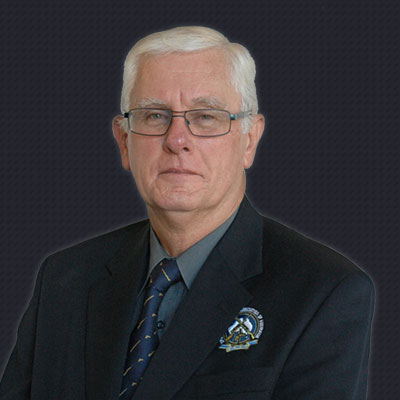 Sporting Shooters Association of Australia: Your Association
Geoff Jones, Gemma Dunn, Trevor Jenkin
SSAA National President Geoff Jones will be speaking on the main stage about where the Association is today and where it is headed.
We have also organised Australian shotgunner and Australian Women's Shooter editor Gemma Dunn to say a few words on what the SSAA is doing about getting more women involved in our sport.
For those who'd like to know more about firearm's insurance or in fact any kind of protection for your assets SSAA insurance brokerage manager Trevor Jenkin will be on hand to explain the details.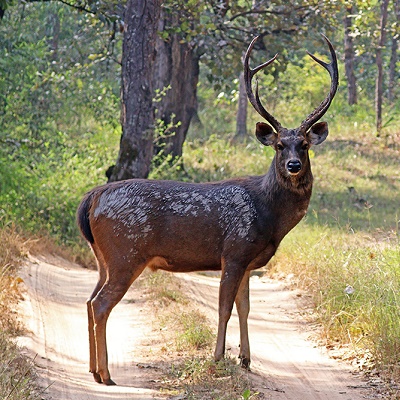 Panel discussion: Deer Hunting in Victoria
David Laird SSAA, Barry Howlett ADA, Zach Powell GMA
This panel discussion is a must-see for experienced and new deer hunters in Victoria.
There are calls for deer to be classified a pest, deer management is dividing opinion and the ever-changing land tenure makes it hard to understand just where to hunt.
We've brought together a panel of experienced deer hunters and decision makers to discuss the current deer situation in Victoria and what hunters can do to help.
They will provide insights into the challenges faced and help hunters understand where they can hunt and their responsibilities on public and private land.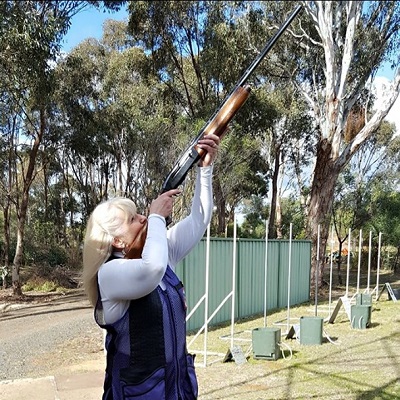 Shotgun shooting is fun for everyone!
Laetisha Scanlan, Gemma Dunn, Marion Barnes
There are all kinds of range shooting disciplines and one that is growing in popularity among SSAA Victoria members is clay target shooting.
One of our own board directors, Marion Barnes took up shotgun shooting as a grandmother a few years ago an is now one of its biggest advocates. She will discuss how she got involved and the steps she went through to get geared up.
With her is Commonwealth Games gold medal-winning women's trap shooter Laetisha Scanlan and SSAA's Gemma Dunn who also represented Australia on the world stage who will explain what it takes to get to the top of the sport.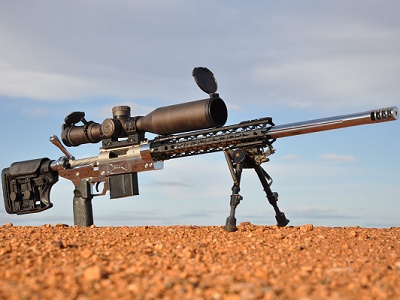 Gunsmithing for practical rifle
Myf Halliwell
Different shooting disciplines and hunting scenarios require careful thought about your firearm and sometimes a custom firearm can make a difference.
A good gunsmith can tailor a firearm to exactly what you need and Myf Halliwell from Ignition Custom Engineering explains the benefits.
Practical rifle shooting is becoming increasingly popular and many competitors are looking for modifications to help them succeed in the discipline.
Myf will introduce the concept of gunsmithing and explain what people look for to get the edge in practical rifle.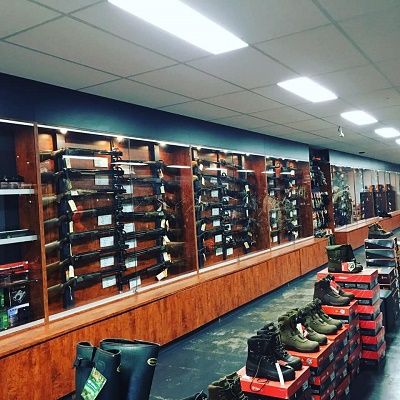 Buying your first gun
Ben Unten
The number of firearms to choose from can be overwhelming at a huge show like the SSAA SHOT Expo, especially of you're just started out.
Ben Unten takes you through the process of figuring out the right gun for you and everything you need to know about firearms ownership.
The presentation is a great starting point for new shooters at the show to help them understand the jargon and what you do and don't need when making that first purchase.
Among the topics are choosing the right calibre, stock types, scopes, ammunition, cleaning, transport and storage, and new vs second-hand.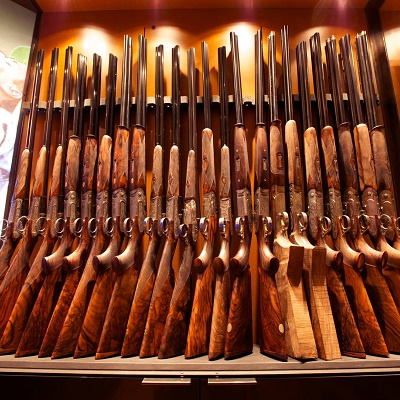 Beretta: Fitting a shotgun/Precision Rifle Series and Long-range shooting
Neil Rundel, Brendan Saglietti, Dave Acker, Sam "Rusty" Russell
When you try different guns at the SSAA SHOT Expo, you may notice they all fit a little differently. Some come up to the shoulder more easily than others and some feel as though they give you a good aim down the barrel.
It's all to do with the shape of the stock and the balance of the firearm and Neil Rundel and Brendan Saglietti from Beretta will help you better understand the benefits of a well-fitting shotgun.
The Beretta expert Dave Acker will also explain what it takes to hit those long-range targets with an insight into the vast array of rifle scopes available.
He will take you from being an absolute beginner through to maximising scope accuracy at professional level.
Dave will also be joined by Precision Rifle Series' Sam "Rusty" Russell to discuss how to be competitive in the increasingly popular practical rifle discipline.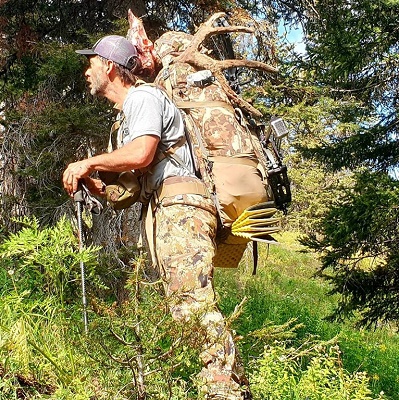 Backpack hunting: tips for success
Pat Tydings, Boulder Creek Outdoors
Leaving the car behind and trekking into remote bushland for a few days offers some of the most rewarding hunting opportunities.
Experienced backpack bowhunter Pat Tydings talks about the wonderful experience of backpack hunting and how to prepare.
He will show how to choose the right gear, including the most important component – the backpack. It is used for carrying essential equipment and most importantly for carrying out meat and trophies from the hunt.
Trimming weight and distributing it properly, and correctly carrying the pack are important to save your back and Pat's demonstration will show you how to do it.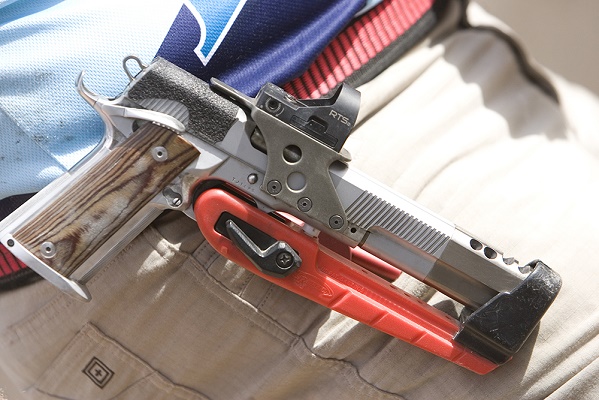 Getting into handguns
Tony Cesarello, SSAA Sporting Shooters Pistol Club
By far SSAA Victoria's largest club is the Sporting Shooters Pistol Club (SSPC) which shoots at the Springvale Range.
The club's success shows that handgun shooting is very popular even though it is more difficult to get involved with than the longarm disciplines.
SSPC President Tony Cesarello will give an expert insight into the variety of handgun shooting available to SSAA members and the onerous process in getting a handgun licence.
It will be a must for anyone interested in handgun shooting to fully understand the steps and responsibilities to get involved.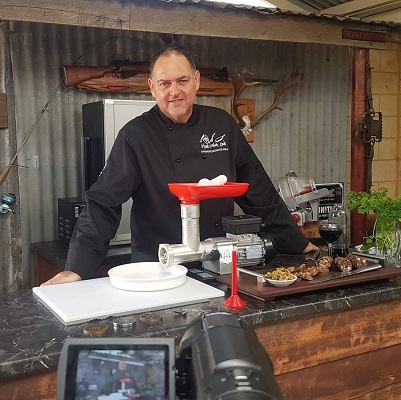 Field to Fork demonstration: Cooking with game meats
Jason Spencer
Join Hunt,Catch,Cook's Jason Spencer as he conducts a series of mouth-watering cooking demonstrations on the SSAA Field to Fork stage.  Using a variety of game meats, Jason will also share his tips and techniques on preparing your catch following a successful hunt to ensure nothing is wasted.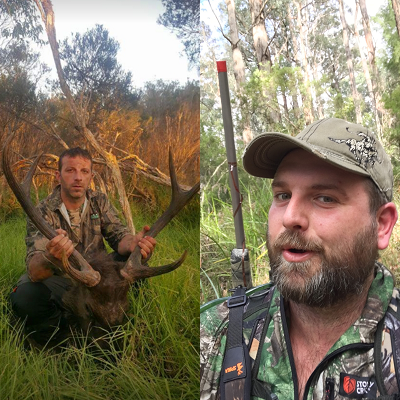 Field to Fork demonstration: Butchery and Preparation Techniques
Panos Sakellaridis, Anton Vogiatzis
Passionate hunter, Panos will demonstrate how to bone out the main cuts from the body, and explain how, and what they are best used for. Panos will also explain some other cuts of meat that are often discarded by hunters but make a great meal! Avid fisherman and hunter, Anton will also be on stage who takes pride in maximising the full potential from each animal harvested. Anton will demonstrate the preparation techniques for cooking, salting and preserving sausages, slow cooked ribs and even jerky.
Field to Fork demonstration: Making jerky and Utilising Rubs
Chris Baldock, Brett Gray
Come meet Chris "Chook" from No bull Beef Jerky and Brett from Rubbed Red Raw. Learn from Chook how to prepare and dehydrate proteins so you can achieve great Jerky.  While Brett will show you how to prepare meat for using rubs, how to utilise rubs, reverse searing and how to present meat.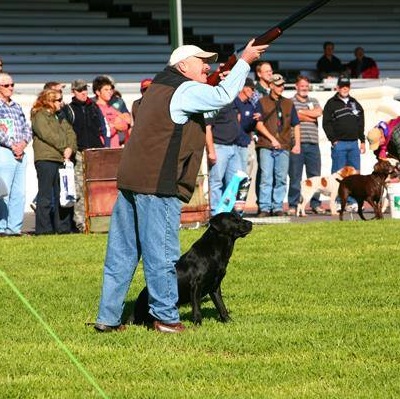 WGAA Working Gundog Demonstrations
A family-favourite of the SSAA SHOT Expo! Conducted by experienced members of the Working Gundogs Association of Australia (WGAA), be sure to check out the working gundogs in action on the Main Arena at 10:30am and 1:30pm each day of the show.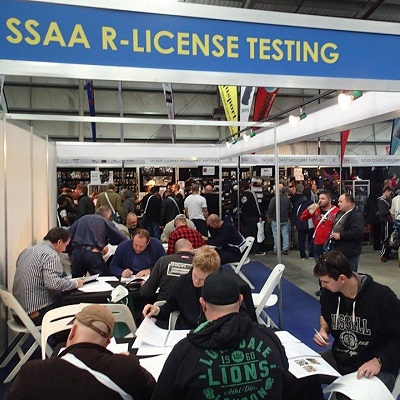 R-Licence Testing at the Expo
Each day between 9am-4pm, SSAA Victoria will be administering NSW R-Licence tests at the back of the exhibition hall next to the indoor shooting range. A maximum of 25 people can take the test at one time, which $20 for SSAA members, and $30 for non-members.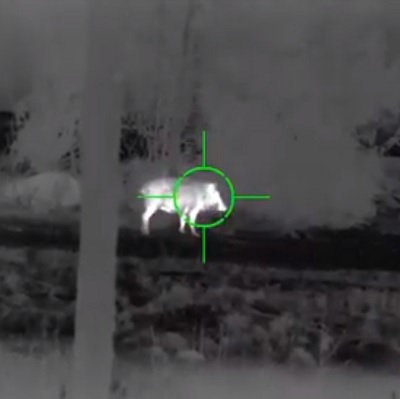 ATN Night Vision Tunnel
Made possible by Outdoor Sporting Agencies, test out the latest night vision and thermal optics from ATN – the Future of Optics, in a modified 40ft shipping container located on the Main Arena. Saturday 9am-4pm, and Sunday 9am-3pm.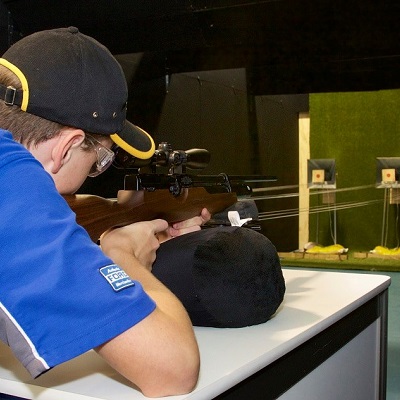 SSAA Indoor Shooting Range
Think you're a crack shot? Looking to try shooting for the first time? Free for adults, and kids 12 years and older, test your skills with air rifles under the guidance of experienced SSAA Range Officers. The range will feature the latest air rifles to hit the Australian market for visitors to try, courtesy of Beretta Australia (Stoeger RX5) and Outdoor Sporting Agencies (Gamo Swarm Fox with Replay magazine system).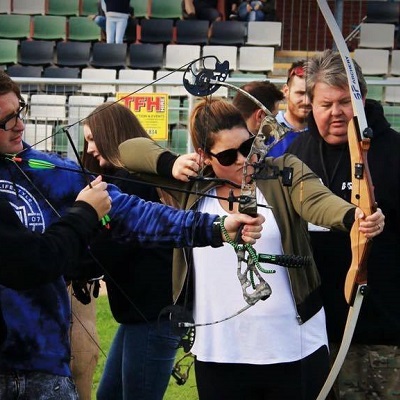 Bushbow 3D Outdoor Archery Range
Sponsored and operated by Bushbow 3D, try your hand with the bow and arrow at the outdoor archery range located on the Main Arena. Free for adults and kids of all ages, the range will operate Saturday 9am-4pm and Sunday 9am-3pm.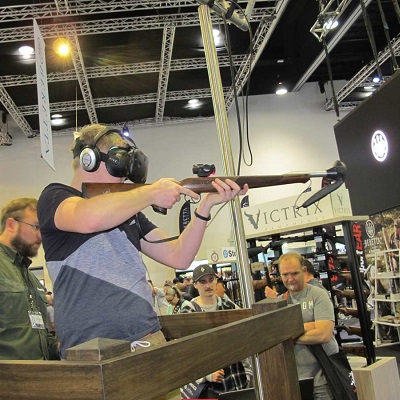 Aimpoint Virtual Reality Hunting Experience
Located on SSAA Victoria's stand and free to try for all visitors, experience one of the most realistic hunting video game simulators ever made and check out the Aimpoint sights in the most entertaining way possible. The VR Experience by Aimpoint, is courtesy of Beretta Australia.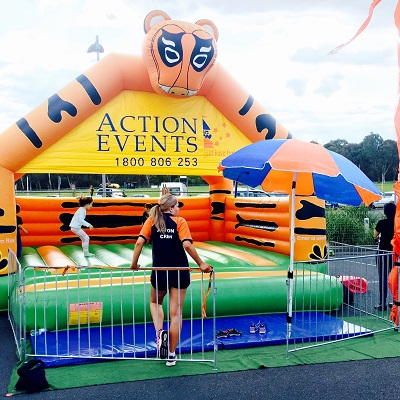 Kids Activities
For the little ones, there is a jumping castle and petting zoo located on the Main Arena which operate from 9am-3pm each day. Inside the exhibition hall at site #184, there will be experienced face painters Saturday 10am-4pm and Sunday 10am-3pm.