Partners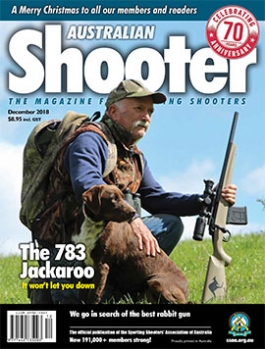 AUSTRALIAN SHOOTER
Australian Shooter is not only the flagship publication of the SSAA, it is also Australia's most popular sports shooting magazine. Published monthly, it aims to create a better environment and community understanding of all forms of hunting and the shooting sports. It caters to SSAA members and the general public who may be recreational hunters, competitive or casual target shooters, those who use their firearms professionally or those who enjoy collecting firearms.
Australian Shooter discusses political, legislative and current event news, while our regular and freelance contributor offer hunting opinions and philosophies, outdoor and survival tips, and technical and practical ballistics information to represent the varied experiences of Australia's recreational shooters and hunters.
The main point of interest for our readers is no doubt our product reviews and feature articles. Each month, our technical writers road-test and review a selection of new firearms, shooting accessories, knives, clothing and much more to help you choose the right product for your chosen activities. The magazine also features several members-only competitions!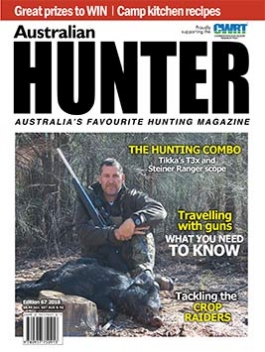 AUSTRALIAN HUNTER
The Australian Hunter is Australia's favourite hunting magazine. Published quarterly, it aims to create a better environment and community understanding of all forms of hunting, as well as provide hunters with up-to-date news and product information. It caters for hunters of all persuasions, including those who hunt for animal management, trophies and of course, for the family table.
Australian Hunter includes a range of hunting stories on all manner of game, from small game such as rabbits and foxes, right up to the world's largest and most dangerous animals. Being the Australian Hunter, much of the magazine is dedicated to hunting in this country, however it also includes adventures and advice about hunting in other parts of the world too.
The magazine features firearm, knife and general product reviews from experienced hunters and outdoor enthusiasts, as well as practical advice for choosing and using these tools in the field. It also includes camp kitchen and game meat recipes and reader competitions.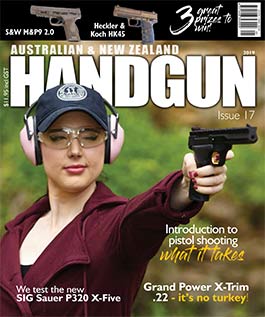 AUSTRALIAN & NEW ZEALAND HANDGUN
The Australian & New Zealand Handgun is the SSAA's dedicated magazine for handgun enthusiasts. Published annually, it showcases legitimate handgun shooting for recreational club and competitive shooters, collectors, historians and those who may use their handguns professionally, such as law enforcement and security personnel.
Handgun features reviews on air pistols, rimfire and centrefire self-loading pistols and revolvers, ammunition, reloading guides, holsters and other shooting accessories, as well as stories about reloading and building custom firearms, hints for shooting specific disciplines and interviews with successful Australian and international competitors.
The magazine also examines the evolution of handguns and ammunition, profiling some of the world's most influential firearm makers and the creation and use of handguns that have changed the course of history.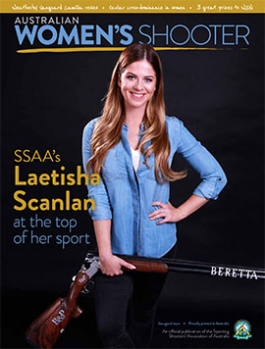 AUSTRALIAN WOMEN'S SHOOTER
Focusing towards SSAA's female members, Australian Women's Shooter is a quarterly magazine that covers all things women's shooting. Whether you're a seasoned sports shooter and/or recreational hunter or maybe looking to become more involved but not sure how, this magazine is for you.
Australian Women's Shooter features a regular column from three-time Commonwealth Games gold medallist Laetisha Scanlan and relevant practical pieces from professional shooter Gemma Dunn. Along with Laetisha and Gemma's expert knowledge and tips, AWS is filled with product reviews, profiles, stories and prizes especially for the ever-increasing number of females participating in shooting and hunting across the country.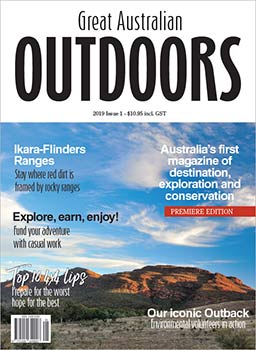 GREAT AUSTRALIAN OUTDOORS MAGAZINE
Published as a glossy, 140-page full colour annual, the Great Australian Outdoors is both educational and entertaining. Unlike most outdoors titles available at newsstands, we take an in-depth look at issues affecting our continent's landscape, fauna and flora. We consult with academics, environmental experts and the custodians of the land and seas, be it farmers, fishers or those charged with protecting it for future generations.
For the traveller, we showcase beautiful destinations such as Mataranka Hot Springs and greater Elsey National Park in the NT, the iconic Ikara-Flinders Ranges and rugged Kangaroo Island in SA and ghost towns of Tasmania. We go 'camping on water' around The Keppels in Queensland and get our feet wet as we search for free prawns where the rivers meet the sea.
On a practical level, we look at towing caravans safely – specifically weight, tyre pressure and the law, as well as food safety and cryovac packaging, working while travelling and ensuring safe drinking water is always at hand.